Barbara Sofer is a prize-winning journalist and author who lives in Jerusalem and who lectures frequently to Jewish and general audiences. She speaks about Israel, Judaism, women's issues, and spirituality. A graduate of the University of Pennsylvania with an MA from the Hebrew University of Jerusalem, her byline has appeared in the New York Times, Woman's Day, Reader's Digest, Parents, the Boston Globe as well as many other publications. She has written seven books and contributed to others. Her latest book, with holocaust survivor Rena Quint, is A Daughter of Many Mothers. She is currently writing a sequel to her novel The Thirteenth Hour (Dutton and Signet)
She writes a weekend column for the Jerusalem Post that deals with the challenges and miracles of everyday life in Israel, where she moved from the United States over 40 years ago..
As the Israel Director of Public Relations for Hadassah, she has witnessed and documented the daily effort to create an island of peace and sanity within Jerusalem's biggest medical center. Because of the prominence of Hadassah Hospital in the news, she has worked with top-tier media, including Sixty Minutes and Nightline in formulating programs that show Israel in a positive light. She contributed to the Emmy winning CNBC program "Jerusalem ER".
Sofer appeared on Good Morning America's new Seven Wonders of the World series as an expert on the spiritual uniqueness of Jerusalem and likes to think of herself as a "magida," an itinerant teller of the stories of Israel, past and present. She has served as a scholar-in-residence and visiting lecture in a variety of venues, including synagogues, churches, regional conferences of Hadassah, national conventions, for communities and at schools.
Her prizes include many Rockower awards for Jewish journalism, the Sidney Taylor Award for the best Jewish children's book, and the 2008 Eliav-Sartawi Award for creating understanding through Middle Eastern journalism. Sofer is married to scientist/writer Gerald Schroeder. They have five children.
Israel-Hamas war: Explaining the Gaza war in New England terms - opinion
Dearest Connecticut cousin,
Thank you for your love and concern, and your desire to explain the conflict. I know you're surrounded by neighbors and friends who are primed to think the worst of Israel, even now after the October 7 massacres. Here's what I would say to them if we were drinking delicious hot coffee in your lovely home. 
Do you remember how you were feeling in September 1962? That's a long time ago – we're now both grandmothers – but I remember it well. President John F. Kennedy was speaking to the nation on television. He called the Soviets liars and issued a warning to the Soviet Union to remove the "secret and swift" buildup of missiles on Cuban soil, 90 miles from the United States. He reached out to the Cuban people whose "land and lives are being used as pawns."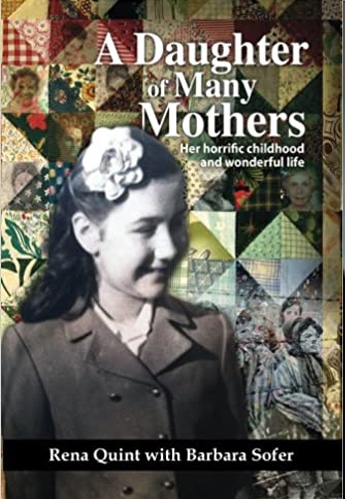 A Daughter of Many Mothers:
Her horrific childhood and wonderful life
Barbara Sofer's latest book
A Daughter of Many Mothers" is the story of Rena Quint, a Holocaust survivor. Left alone as a small child after her parents and brothers were murdered by the Nazis, one good woman after another took care of her despite the danger. She was found still alive among the piles of dead in Bergen-Belsen.
On behalf of The League for Special Children, I would like to thank you ever so much for your beautiful presentation yesterday at our Membership Tea. Everyone was raving about your speech, and many had tears in their eyes listening to you speak about the tragedies. You were really great, and we truly appreciated your coming to speak to us. Just wish you would have joined us for some of the refreshments. Again, many thanks.
I thank you from the bottom of my heart for coming to Indianapolis. You gave the Hasten Hebrew community a wonderful gift with your presence, your workshops, your Woman of Valor talk. I continue to hear many good things about you and your visit. Thank you.
Thank you so much for spending time with us last week on our Young Women's Mission. I enjoyed my experience on Shabbat immensely and it was extremely motivating to hear you speak throughout our trip. I leave Israel inspired to do more and to motivate our members to see the importance of our efforts. It felt like we had come full circle when we ended our trip in Henrietta's museum and I thought you did a phenomenal job of telling her story. Thank you again for inspiring us and I hope to see you again someday soon.
I hope you had an uneventful flight back home. I want to thank you so very much for coming and sharing your wonderful stories with us here in Houston. Anyway, you are so fabulous to listen to!! Our dinners were VERY successful thanks to you. Many of those that attended the dinners went up on their pledges. You touched most of us in the room. I can't wait to come and see you in Israel. I look forward to your monthly e-letter.